How to choose the right size rug for your space, large, small or somewhere in between.
Equally important to choosing a rug design that fits your style is choosing a rug size that fits your space. While the right design is unique to each person, the right fit is based on technical measurements. Our founder, Charlotte, has outlined the best practices when it comes to rug sizing below.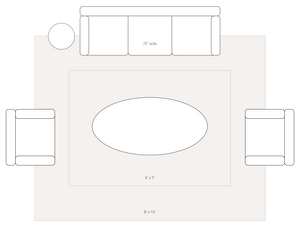 Small Living Rooms
Standard sizes (in feet)
5x7, 8x10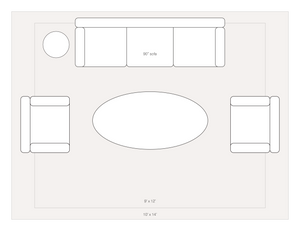 Large Living Rooms
Standard sizes (in feet)
9x12, 10x14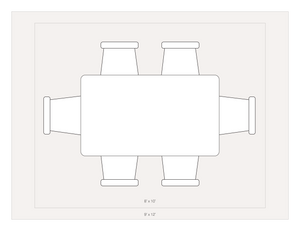 Dining Rooms
Standard sizes (in feet)
8x10, 9x12, or larger depending
on the size of your table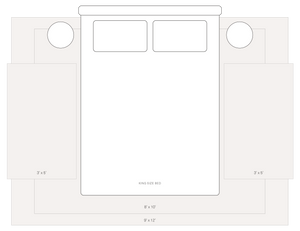 Bedrooms
Standard sizes (in feet)
3x5, 8x10, 9x12
Industry Best Practices
• Generally, allow 18" of space around the edge of your rug. Allow for a 2" margin of error, especially when working with handmade rugs, as the edges are almost never exactly even.
• Follow the orientation of the room, meaning a longer room needs a longer rug.
• If you're having a hard time visualizing how the rug will fit in your space, use painter's tape to mark the outline on your floor.
• When unsure of which size, opt for the larger size. Having a rug that is too small can make a room feel disjointed and cluttered.